Lustre
Nourishing Moisture
Infuse skin with light, non-greasy hydration for all-day moisture, while helping to prevent oxidation and cellular senescence.
In an irritation & sensitivity patch test, no adverse events or reactions were reported
See the full report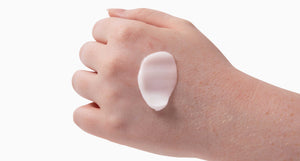 Visible Results
Finish your regimen with a rush of hydration to replenish and balance any skin type, without the greasy finish. This lightweight moisturizer is formulated to help form a protective layer that not only locks in hydration and your corrective products, but helps to reduce transepidermal water loss to prevent dehydration.
Long Term Skin Health
Hydrated skin strengthens the barrier function, your protection from everyday stressors including free radicals, blue light and pollution.
Pump up the protection with Chrono-Glow, derived from the resurrection plant, which helps to repair cellular damage, while preventing oxidation and cellular senescence that can trigger inflammation and induce visible damage to the skin.
*Antioxidant evaluation was performed thanks to an AmplexRed assay kit to evaluate ROS scavenging properties of ChronoglowTM at increasing concentrations. Hydrogen peroxyde was used as a source of oxidative stress to produce ROS, which were then quantified thanks to fluorescence. Results: ChronoglowTM demonstrates a dose-dependent efficacy as an antioxidant, with a protection level up to +90% at 0.2%.

**A replicative senescence model was developed using human fibroblasts from a 29 years old donor. Cell senescence was induced by successive replication in culture up to passage 9. Senescent fibroblasts were then stimulated or not with ChronoglowTM at 0.2% for 48h and SA-β galactosidase activity was then measured. The morphological aspect of the cells was also analysed by microscopic observation after vimentin immunostaining, as it is demonstrated that senescence has a significant impact on fibroblasts morphology (enlarging them, and making them lose their fusiform aspect). Results: ChronoglowTM significantly reduces SA-β galactosidase activity, down to -31%, efficiently reversing the cellular senescence process. This is confirmed by the morphological observation, as ChronoglowTM enables to recover a fibroblast aspect closer to young fibroblasts after treatment of the senescent cells.